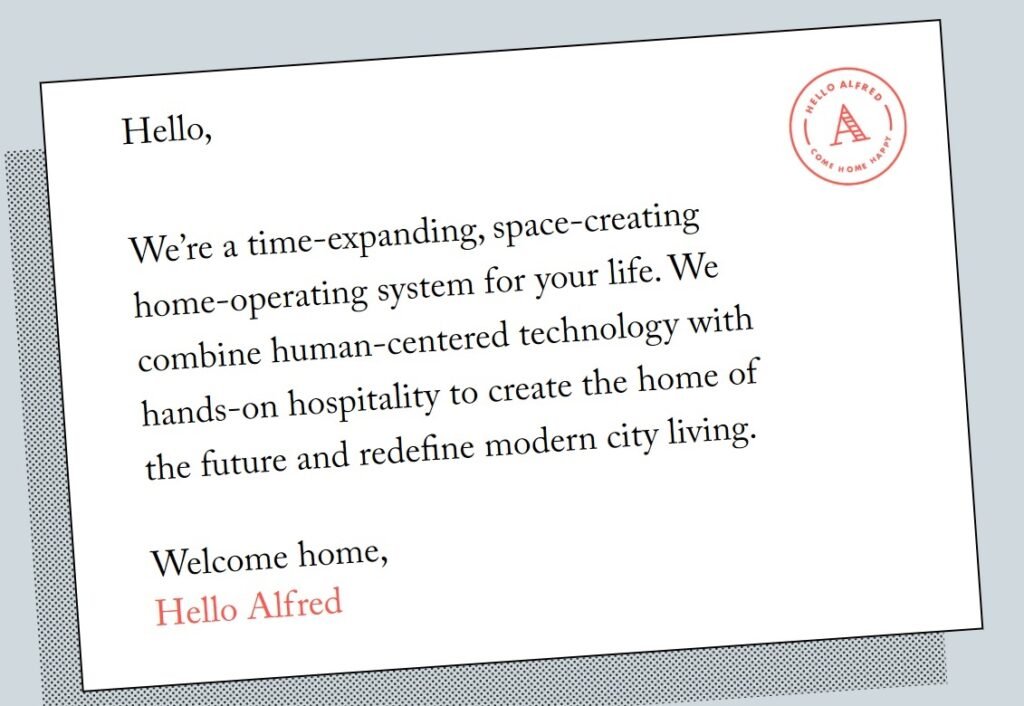 On the front page of Hello Alfred's website, a big welcome jumps out at you with
We're a time-expanding, space-creating home-operating system for your life. We combine human-centered technology with hands-on hospitality to create the home of the future and redefine modern city living.
Hello Alfred is an end to end resident experience platform that combines hospitality and technology to build help directly into the most important space in people's lives: the home. Named one of the Top 50 Most Innovative Companies in the World by Fast Company in the urban development space, Hello Alfred is setting the new standard for urban living.
Also, from their website – At Hello Alfred, we're on a mission to change the way people live in cities. We believe the intersections of people, cultures, and ideas that make cities such vital places to live and work point the way to a more sustainable and conscientious way of living. It's a future where everyone has the help they need to make the most of their time for the people and things that matter the most.
Some of their in-home services include
Groceries
Laundry
Fresh Flowers
Packages
Dry Cleaning
Prescriptions
On-Request Services
Home Cleaning
Move in
Fitness
Mount a TV
Tech Help
Pet Care
To learn more about Hello Alfred visit www.helloalfred.com or Meet the Alfred
Greystar Real Estate Partners, LLC ("Greystar"), and Hello Alfred, the leading residential experience company, announced that they are joining forces to provide residents at Greystar's properties across the United States access to Hello Alfred's home management services. This combination of industry leaders ushers in a new standard of living through a first-of-its-kind deal in both scale and service.
Residents at select Greystar communities are able to leverage Hello Alfred's human-centered technology and hands-on hospitality services to take care of daily tasks including home cleaning, laundry, pet care, travel planning and beyond.
Get Greystar managed properties that have Concierge Services Here
Greystar and Hello Alfred Elevate The Standard of Rental Living
Wednesday, May 15, 2019 – Greystar News and Full Article